Local Kitchen Remodeling near Metro Detroit MI
A Leader In Custom Kitchen Design & Remodeling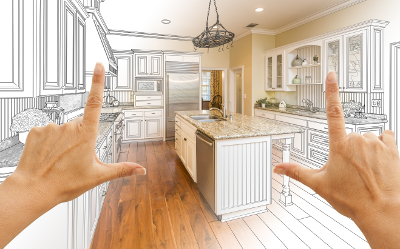 At MGW Kitchens we work closely with our clients in order to craft stunning kitchens from the beginning to the end of the project. It's our mission to provide top-notch service with an exceptional customer experience. We will discuss your vision in the design consultation and come up with a design that is perfect for your needs. We offer many options to choose from which makes your remodel easy and free of hassle so you can enjoy the process while living stress free. Let us create the kitchen of your dreams! With a fully stocked warehouse, we can transform your kitchen into a beautiful masterpiece!
With over two decades of experience, we have successfully completed hundreds of kitchen designs and remodels. We can assure you that our team is able to handle and custom request you may have while delivering a spectacular result that you and your family will enjoy for many years to come.
---
Visualize & Design Your Dream Kitchen
There are endless possibilities when it comes to designing and remodeling your home kitchen. With your visualization of what you want your kitchen to look like and our expertise, we ensure you that we can come up with a solid design for a remodel that you will love! Tell us exactly what your thinking, even if the request may seem like it's hard to do - our skills can handle anything. We can fill the gaps and make your ideas come to life. MGW Kitchens of Shelby township has been providing service to the Metro Detroit area for quite some time.
MGW Kitchen Design Services
It's easy to expand your imagination when you learn what type of materials you are working with. We will show you exactly what options you have and allow you to match your vision to real materials that will be used in your remodel.
Countertop Materials - we can create solid surfaces from a variety of different materials. Choose from granite, marble, and our vast selection of quartz natural stone for your home! All of our materials are available in different colors, and styles which will make it easier on your to choose what exactly your looking for in your design.
Endless Edge Options - Once your surface is chosen we then are able to provide you with a choice of different shapes for the edges of your counters. Pick from flat edges, polished edges, beveled edges to ogee edges and more! We can confidently ensure that your kitchen will look immaculate with our attention to detail.
Cabinet Choices - Don't stop at just remodeling your countertops. Finish it off with selecting new kitchen cabinets. We offer quite the option of different materials that come in a range of colors that will compliment your home. We will give our best advice in what would look best with the lighting in the space.
---
From Countertops to Cabinets: Remodel Your Kitchen With The Experts
Kitchens across the country have their own unique look but share the same basic elements like countertops, tiles and cabinets. These elements all tie in together and make a cohesive and functional space. If one were to be misplaced from cutting corners the whole room will look wrong. The experts at MGW Kitchens keep this in mind for every project that comes our way. We provide the elements to a successful kitchen by installing them correctly to maximize the look, convenience and value of the home.
A majority of homeowners will update indivdual parts of their kitchens but few choose to invest in a full force remodel. There are many benefits when you choose to install a new kitchen all at once.
Space - Just like other features that need to be planned with careful measure so does space. When you install a new kitchen it will ensure that there is the right amount of space between counters and cabinets.
Consistency - Installing kitchen features separately can be a risk in the consistency of the look of your space. Majority of the time features won't match and can throw off the aesthetic. A full remodel gives you the chance to plan each element so they compliment each other.
Longevity - If you install countertops and cabinets separately there are a few issues that can arise. If the cabinets are too heavy for whatever is beneath it supporting them it can cause damage and require future repairs which no one wants to deal with.
---
Kitchen Remodeling Projects We've Completed in the Metro Detroit Area
Take a Look at Our Gallery Of Work +
---
MGW Kitchens is committed to making your design and remodeling process simple and quick! Give us an idea of what your looking for and let us take care of the rest to create your ideal kitchen! If you have any questions about our services or would like to check out our inventory don't hesitate to contact us - we are excited to work with you!