Preferred Granite Countertops Around Oakland Township MI
Professional Granite Countertops For Over 20 Years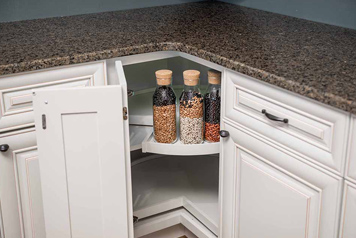 The MGW team offers the highest quality granite and quartz countertop material at the best price in the area. We import our precious stone from all over the world. Each one is hand picked and ready to be installed into your home! We also have relationships with suppliers and vendors that are able to give you that premium stone you're looking for. Our business is certified in selling Silestone®, Caesarstone®, and Vicostone®. We offer a vast variety of colors and textures for you to choose from, giving you many options in order for you to create your dream kitchen!
MGW Kitchens has proudly been providing quality kitchen countertops to Southeast Michigan homeowners. We are able to cater to every unique taste. Every home is different, what could be designed for one house may be too heavy or look out of place in another. That's why we offer a variety of different materials that include:
Granite Countertops
Granite provides you with a long-lasting finish that is versatile and easy to maintain. Granite is a perfect choice for your countertops for many reasons. This stone will resit any water marks, and heat while maintaining the same color and texture no matter what gets placed on top of it.
---
Marble Countertops
Marble is timeless and adds a luxurious element to any setting. Give your kitchen a facelift with this gorgeous natural stone. Choose from our many options of marble countertops, pick your favorite color and style.
---
Quartz Countertops
Quartz stone is a popular choice among homeowners who are remodeling their kitchen on a budget. This stone is super affordable while giving you the strength and durability you are looking for in a countertop. Quartz can be cleaned with minimal effort.
Silestone® - 94% natural quartz
Vicostone® - 90-93% natural stone
Caesarstone® - Known for its versatility
---
Tile Counters
Along with floors, tiles give you more custom effects to your design. You can create an arrangement of different shapes and colors on your counter. Homeowners with more ambitious design plans typically are looking for tile surfaces.
Browse Our Tile Product Lines:
---
Customized Countertops in Southeast Michigan
The Benefits of Working With MGW Kitchens
The MGW Team offers customers numerous benefits that other remodelers can't seem to grasp. We are one-stop-shop countertop fabricator. Our key component is custom counters. Choose from the many choices of materials and our team of professionals are able to create any shape, size, and color countertop for your ideal kitchen.
Our custom countertops come at an affordable price. We don't have a middleman to pay here at MGW Kitchens which makes our prices at a minimum compared to our competitors. Request a specific design and we are able to design and identify the perfect kitchen you are looking for. Once you tell us what color and shapes you are looking for leave the rest to us!
---
What are you waiting for? Design your dream kitchen with MGW Kitchens custom Granite Countertops. Stop in our showroom and we will show you our unique designs. For more information or to schedule a visit, be sure to contact us - we are happy to answer any questions you my have!